The stable. It's where a gift of love was born. And it's an event that I'll never get tired of, which is why I keep making projects that feature a tiny baby in a feed trough. Like this Nativity felt playset.
But let me go back. A few years ago, I shared a tutorial for
an ornament I called "The Stable."
It remains one of the top posts on my blog. Twelve months ago, I decided that this would be a year of "making old new", by way of taking previous or vintage projects and updating them in some way (and I've sort of followed through). A few weeks ago, I mentioned the idea of using my ornament pattern as a playset. And here we are.
So I took the old ornament pieces, enlarged them, and added a few more patterns. The figures work great on a felt board, or you can let children play and arrange them flat on a table. Or if you don't want a playset, try using the pieces to make a wall hanging!
You will need:
Felt - tan, brown, white, and a bunch of colors (I prefer
Benzie Design felt
)
Scissors
Pins
Black embroidery floss
Needle
Craft or fabric glue
Print the pattern pieces and start cutting out the shapes. All of the people use the same body and face pieces (except for the tiny baby Jesus). Use tan and brown felt for the face shapes and various colors for the body pieces.
Cut angel wings and sheep bodies from white (or perhaps you may want a dark sheep too!), and cut the extra pieces using the image above as suggestions for colors.
Cut out the large stable shape from tan and cut the stable frame from brown. And of course, you'll need the manger and star!
To assemble the stable background, run a wave of glue around the edge of the large stable piece where the frame will go. Then, lay the frame over the glue. Set this aside to dry.
Stitch the eyes on all of the face pieces. For the large pieces, use french knots and for the tiny baby Jesus, use scallop stitches so He is sleeping.
Of course, you can add a nose and mouth to these, but I love this simplicity. Oh, and if you need help with these stitches, check out my
making faces tutorial
.
Use glue to attach each face to a body.
Here's the Holy Family all gathered close. I like that Jesus can lay in the manger, but I love how it looks when Mary is holding Him.
For the angel, attach the wings to the back. Or keep them separate so you can change out which body piece is the angel. You could even make a bunch of angels so they can fill the sky. Maybe shrink the pattern a bit so you can have some that are smaller?
And some shepherds! I decided to glue the shepherds' crooks to them, but again, leaving them loose will up the play value and customization.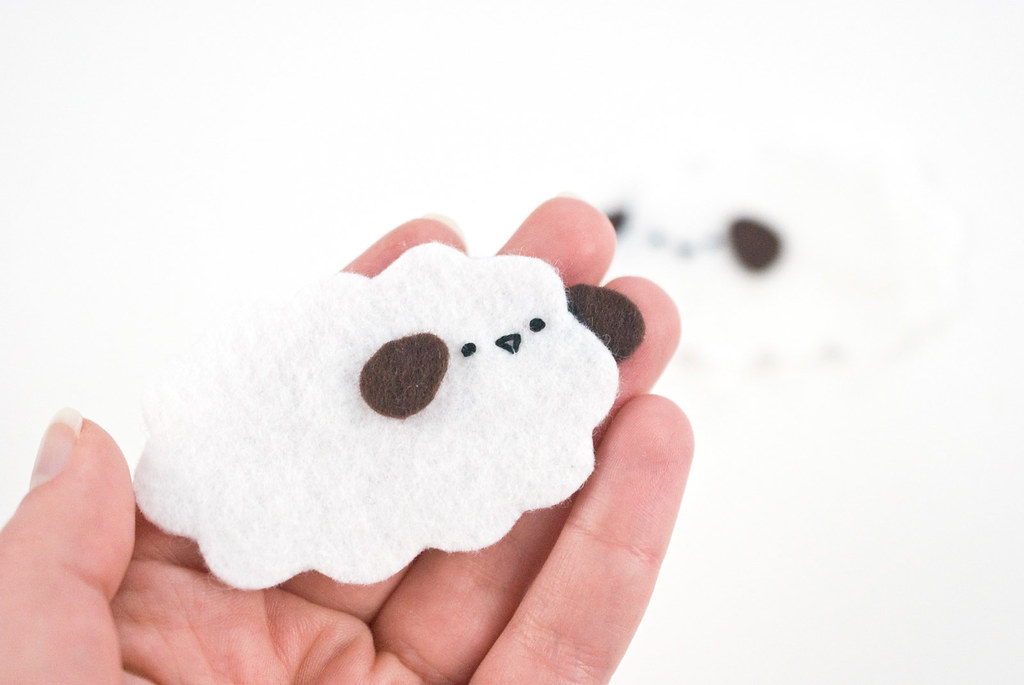 Baaaaaaaaahhhh! Embroider faces on the sheep and consider making some look in different directions. They're pretty easy to stitch freehand. Just two french knots and a bit of back stitch for the nose.
Glue one ear behind the sheep body and one ear in front.
At my house, we prefer to keep the kings or wise men away from the stable, because seriously...how did they travel so fast if the star appeared when Jesus was born?
But, I do love tradition, so I made some kings with crowns that can either be glued on or left separate. I didn't make gifts in the pattern, but you could definitely make some!
Now it's time to tell the story! Place the felt pieces in the stable and set the scene.
...And while they were there, the time came for Mary's baby to be born. She gave birth to her firstborn son. She wrapped him snugly in strips of cloth and laid him in a manger, because there was no lodging available for them.
That night there were shepherds staying in the fields nearby, guarding their flocks of sheep. Suddenly, an angel of the Lord appeared among them, and the radiance of the Lord's glory surrounded them. They were terrified, but the angel reassured them. "Don't be afraid!" he said. "I bring you good news that will bring great joy to all people. The Savior—yes, the Messiah, the Lord—has been born today in Bethlehem, the city of David!"
About that time some wise men from eastern lands arrived in Jerusalem, asking, "Where is the newborn king of the Jews? We saw his star as it rose, and we have come to worship him."
You guys, I love this story. I love this truth. And I love when children get to experience these things and touch them with their little fingers. Because, like Mary, I'm pretty sure this happens:
"Mary kept all these things in her heart and thought about them often."
When kids have their own Nativity sets to play with and retell the story, it helps them keep these things and think about them often. And that gives them the opportunity to talk and ask questions.
Of course, the reality is that as an adult, making projects like this does the exact same thing for me. I ponder these things in my heart.
Enjoy making this playset, and especially making this a time for celebrating Jesus.