If you've ever wondered what it might be like to design a sewing pattern for a hat, you're in the right place. Or, if you'd simply like to laugh at what the process looks like, you're still in the right place. Because I drafted my own pattern for a sun hat, it was an experience, and I'd love to tell you all about it.
Now, I wouldn't have really been looking to make a sun hat, but several factors came together to make it happen. First, I had a bout of skin cancer last year. (
Read about that here!
) I was told that I really need to take extra precautions to protect my skin, and that includes wearing hats. So I started buying a couple, just so I could follow doctor's orders. Then, out of nowhere, I was asked to make a sun hat for The Spruce Crafts.
Was I planning on sewing my own hat? No. And I certainly hadn't considered creating my own pattern! But it kinda felt right. I would make a hat that I would be happy to wear, and I would get to share that with others.
To get ready, I looked at sun hats online and even checked out a few patterns. The construction options were all pretty much like those I had been picturing in my head. So I drew my first pattern pieces in Adobe Illustrator to give it a go.
For my first try, I simply assembled the paper pattern pieces to see how things fit together. This included lots of tape and even some stapling. I haven't watched much Project Runway, but I think this is how they do it, right?
What I got was something that looks like a doggy cone of shame. All things considered though, it went together better than expected and I found where I needed to make a few small adjustments.
After a ridiculous amount of trouble with fusible interfacing (a tale I share in
Episode 2 of The Very Serious Crafts Podcast
), I made a fabric prototype. Well, half of one.
Before making the lining piece, I tried this on and it was too small. Still, the shape was pretty good and things mostly fit together. The one change I decided NEEDED to happen, was that I had to reduce the number of pieces that made the brim. I had three on the crown and four on the brim, which just didn't look right.
I made my pattern alterations and made a new prototype. I could tell after the first half that my brim was different, but I thought maybe it would still work for me. In making the pattern pieces larger to compensate for having three instead of four, I apparently went a little overboard.
The crown also seemed to have changed, but I have no idea how. At any rate, I sewed the whole thing together and got this floppy hat version. It fits me, but it wasn't the look I was going for. At all. I haven't decided yet if I'll actually wear it. Perhaps in the backyard?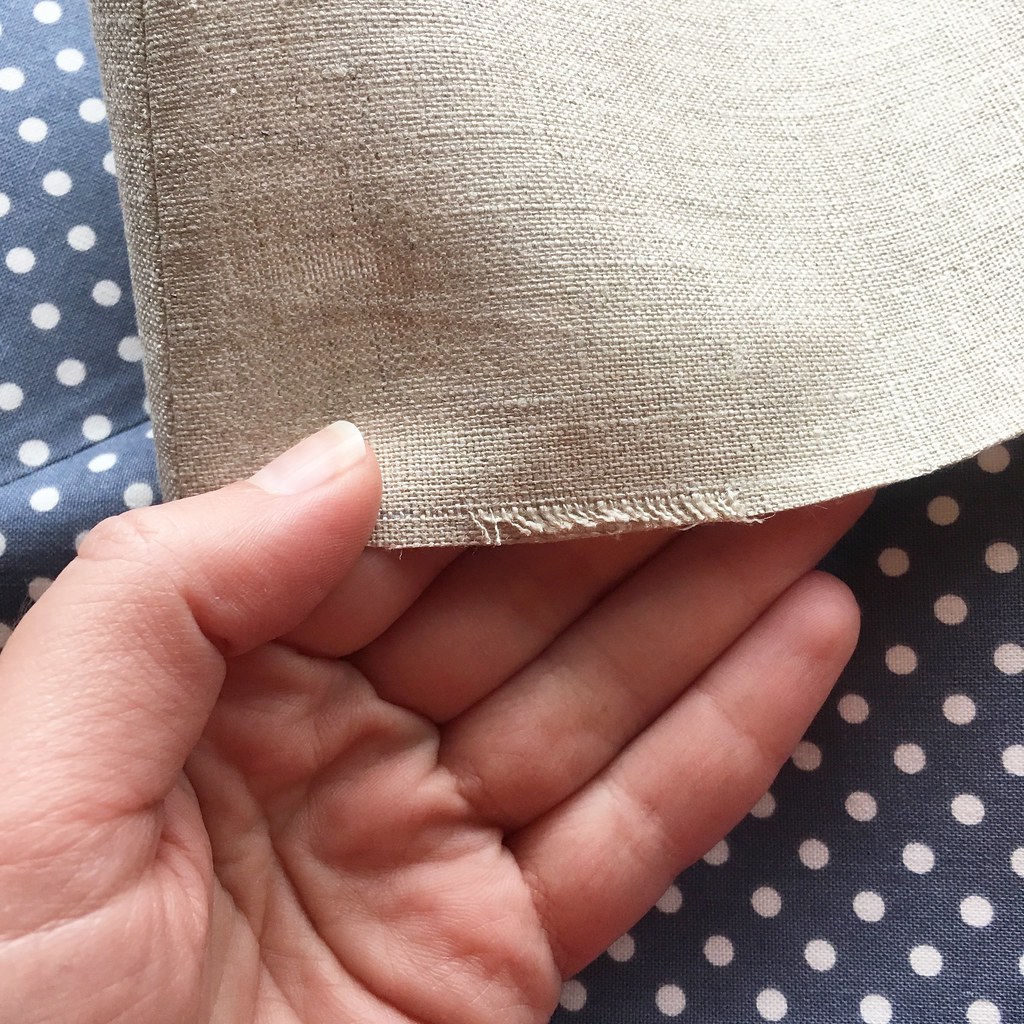 It was time to fix pattern pieces again! I trimmed some brim, which involved a bit of guesswork. Yes, there's math involved, but I had already exhausted my math skills to get this far. Which, I will say, I was still pretty close on.
At any rate, I felt confident enough to work with the actual fabric I was planning for the hat. It's my favorite linen to use for...well...nearly everything. I embroider on it, I sew with it, and in general I just love it.
The only thing about this linen is that sometimes some irregular bits work their way in. So when I noticed a chunk of something that wasn't so pretty, I decided to pull it out. I've done this before and it was fine. Well, this time it was a little close to the edge of the fabric, and I managed to just fray the thing. Ugh. What to do?
I'll tell you what. I wasn't remaking this thing again! So I just sewed that fraying edge right into the seam. There's interfacing fused to it, so hopefully it holds. I'm living on the edge here.
As I watched this version coming together, I knew this was the one. And not just because I didn't want to start over! No, I could see that it was right.
I convinced my sister to model for me, which you see above. We took so many photos and I used just one of her. After editing pics and writing up the instructions, this was officially finished.
And now I have a hat that I love, that's actually more like two hats because it's reversible. It's fun both ways, and the crocheted trim comes with a special memory of buying it while on a trip to NYC with my sister Anna and my friend Katie.
But even though I didn't want to have to start on making another version of the hat, I'd actually make more of these. I even have some bright fabric that looks very beachy and well-suited for this design.
So that's my tale of what it looks like to design a sewing pattern for a sun hat. If you'd like to skip the designing part and just start sewing, you can
find my free pattern and tutorial at The Spruce Crafts!