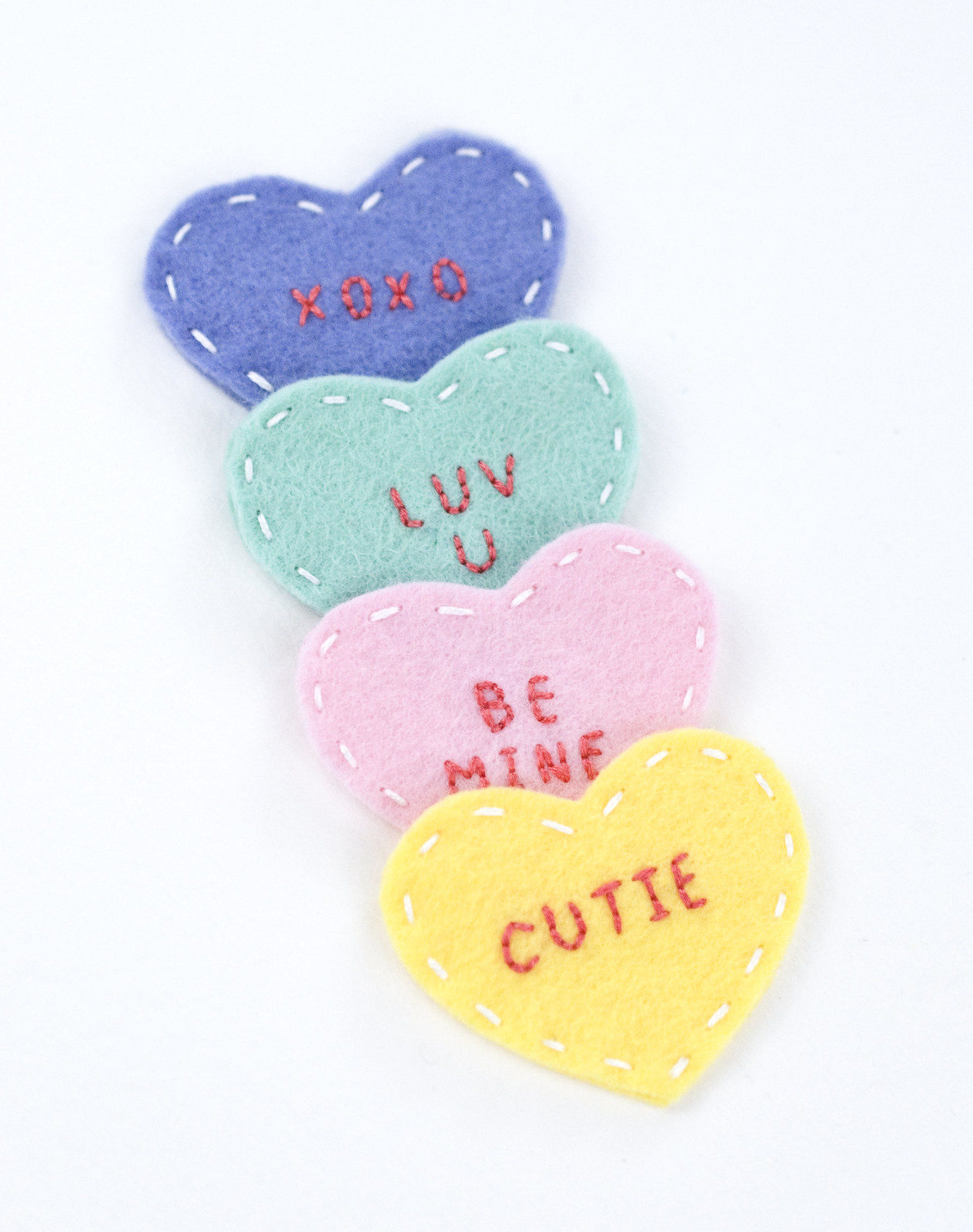 Do you like conversation hearts? I mean, eating them. Pretty sure I've never been a fan. But nothing says Valentine's Day like a chalky heart with a cheeky message. Right?
My friend Becca and I were discussing the other day (when her husband gave her an early Valentine's Day gift of fabric) that we would prefer fabric to candy or flowers any day. And similarly, felt conversation hearts are way better than the real version.
I made these to fit nicely inside the
Not-So-Lonely Heart Box
. They make it happy to have some little candy friends!
These hearts are so simple to make. Read on to find out what I'll be doing with mine after today.
You will need:
Felt in candy colors
Embroidery floss in deep pink and white (or to match the felt)
Tracing paper
DOWNLOAD THE CONVERSATION HEARTS TEMPLATE PDF
Use the template to cut out two felt hearts for each conversation heart you want to make.
Trace the patterns onto tracing paper, then hold the paper over one of the hearts and embroider the words through the tracing paper and felt. Use three strands of dark pink floss and back stitch.
Tear away the tracing paper without tugging the stitches. Hmm...my words are a little off center/crooked. Normally this would bother me. This time I'm letting it go.
Place the second heart behind the embroidered one and stitch around the outside edge with three strands and running stitch.
One done!
And four done!
They look so cute all snuggled into their box. But I'm not sure that everyone (anyone?) really needs a felt box of conversation hearts. So...how about making these into magnets? Or pins? The box becomes the packaging that can also be used for holding other items too.
Mine are staying just as they are, because I think my sister is going to want them to play with her American Girl Dolls. They are just the right size to be cookies!
When I was nearly done with these, I questioned why I didn't put faces on them. It's my big regret of Tuesday. Oh well... next time.