I just made plans to take a trip to Seattle next month. This has been on my list of places to visit for a while now, and it's finally gonna happen! It will be my second trip to the west coast, but unlike my vacation in San Diego, I expect that this trip will have less sun and more of what I love: Coffee.
And maybe embroidery too. Because today a new eBook by Megan Eckman of Studio MME comes out.
West Coast Love Embroidery Book
is a digital book that is filled with patterns of landmarks and icons from California, Oregon, and Washington. And they are all in the delightful style of Megan's artwork. What a wonderful way to tour the west coast!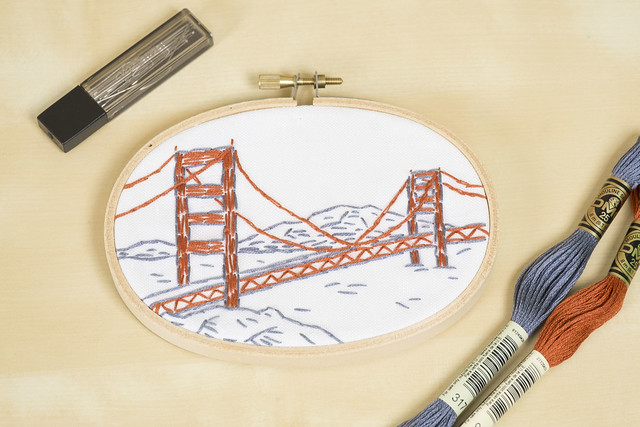 Within the 103 pages, you'll find 20 patterns, each designed to be stitched as hoop art or on flags. Instructions for finishing each of these types of projects is included, along with full embroidery guides and tutorials. The patterns are shown both regular and in reverse so you can either trace or use a transfer pen/pencil.
And may I just say, the photos in this are really, really great. Obviously it's good to see clear, crisp images of the embroidery, but it's especially helpful in the how-to section, and that's what Megan has in these pages. Great stuff!
As I mentioned,
West Coast Love
is only available as an eBook, but let me tell you why that's awesome.
First, you can put this on your iPad and have the stitching guides with you all the time. But even better, you can print the patterns SO EASILY, and that means you can get stitching right away. In fact, if you use
Sulky Sticky Fabri-Solvy
, you'll save even more time! (I love this stuff and just stocked up again!)
And as a special gift to you, Megan is sharing a free pattern from the book! The Stellar's Jay design features a native western feathered friend, which she describes as a gentleman, who might just look like he's wearing a top hat!
For an embroidery tour of the west coast, check out
West Coast Love Embroidery Book
from Studio MME! Thanks, Megan! (And let's talk about getting some midwest patterns going, mmmkay?)