First, let's just not talk about this picture of me riding a pool noodle horse, okay?
Next, you know when you see things on Pinterest, but never make them? This isn't one of those things. This is a time when I went looking for something, found it on Pinterest, and then changed it to make it work for me. If you can do that with an idea, I say, do it! Make it work for you!
In this case, I had seen a pool noodle horse, and when my sister's class was learning about horses, we thought it would be fun for the kids to make. We were wrong. All of the versions I found were either too difficult, too goofy looking, or both. In fact, I didn't see how a bunch of four-year-olds were gonna make any of them, so I volunteered to make the horses so they could at least have them for active play. Yes, I volunteered to make 20 pool noodle stick horses.
Clearly, I was going to need a fast and easy way to do this. So I looked at three or four different versions, and came up with my own, using a few of the features that I liked the most. If I can make 20 of these in a few hours, you can make one in about 10 minutes.
Here's what you need:
Pool noodle
Chunky yarn
Felt
Serrated knife
Permanent marker
Craft glue
Using the knife, cut a wedge out of the side of the pool noodle, about 10 inches from the end. This will be the head.
Hold the noodle so the side with the missing wedge is facing down, and look at the end of the noodle. Cut a slice across, so it goes into the end about 2-3 inches. This will be the mouth, and with every one that I made, I could only think of "never look a gift horse in the mouth."
Take the permanent marker and make a little smile that goes from the end of the noodle up to where the slit ends. Make a "C" nostril just above the slit. Add a nice round eye a few inches up from the mouth. You could even add eyelashes if you want. Repeat this on the other side, and to make the lines a little darker, you can go over them again once the marker has dried.
Cut a 4-foot long piece of chunky yarn. Fold it in half and tie an overhand knot about 8 inches from the fold. You could make the piece longer (we kept it short for safety purposes), but you need the knot to stay 8 inches from the fold. These will be the reins, and you'll need them in just a moment.
Fold a piece of felt in half and cut an ear-ish shape on the fold. There's no perfection here, just go for something similar to what you see in the photo. Overall width on mine were 8-9 inches and maybe 3 inches wide. Add some craft glue to the center area.
(Don't be tempted to wear this as a jumbo mustache, okay?)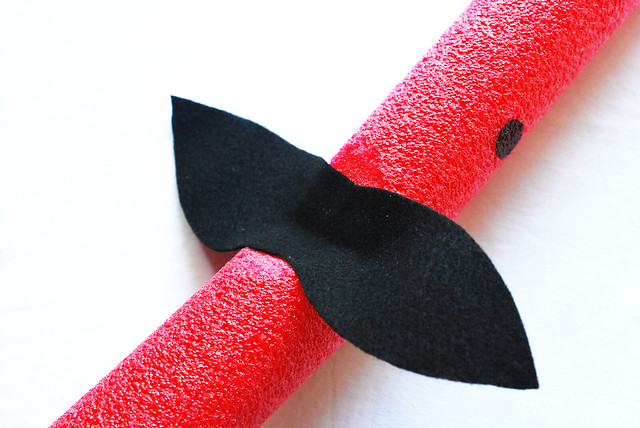 Stick the ear piece into the cut out wedge on the pool noodle.
Slide the reins into the horse's mouth, then pull the horse's head down so the knot in the reins is up against the neck/body of the horse. Tie a knot on the other side of the pool noodle to secure it.
Tie the ends of the reins together so there's something to hold onto. We want to make sure this horse can be properly guided, right?
Check to see that those ears are sticking up (they should have a little tuck in them that gives them shape and keeps them up), and then hop on for a ride around the yard! You could probably even switch the felt for fun foam and then use these in the pool, although I haven't tried that version yet.
If you're making a whole bunch of horses, a tall laundry basket makes a great corral. Happy Trails!